A Tale of Two Tailors: A Charity Fashion Show
I Totally Went Groupie Crazy All Over DinaTokio
I went to a charity fashion show recently titled "A Tale of Two Tailors", It was organised by Islamic Relief in association with the couture and bespoke wedding dress designer Rima Tadmory. It was held in Birmingham at the exhibition hall in Egbaston Cricket Ground. The nature of the event was to raise awareness of woman in poverty in Bangladesh and to raise money to aid them. I was very intrigued by the idea, the charity worker explained that the money being raised was not just handed to the women in need, instead, they used the raised funds to help these women learn a trade to be able to work, and thus, lift them from poverty. This meant they could support their families and their children. The aim was in the span of four years, these women could more or less be independant and hopefully life and empower others in their community. This appealed to me very much, empowering women is vital for a community to progress and the work they were doing was impressive, read about their work here.
When arriving, you could already see flowers everywhere and everywhere! The flower decor was supplied and assembled by Bits and Bloom. The made flower walls for the makeup and hair presentation as well as walls you could take pictures against. The makeup presentation was by Sadiya Hussein and hair was done by Sofia Qayyum. The also provided the hair and makeup for the fashion show. For a meet and greet before the show, the ever so beautiful Habiba Da Silva was there. I didn't get a chance to meet her because the line was long and the show was starting, but honestly she just looked radiant! I only managed to take a few shots of her from afar like a creepy stalker so yay me! (wierd.. lol)
As for the fashion show, It was nothing less than mesmerizing, sublime, and just fantastic really! everything from the music, to the beautiful gowns draping the ever so graceful models, it was a show I was glad to be attending! It consisted of two parts, evening couture catwalk and wedding dress catwalk. DinaTokio presented the show *groupie squeeaaals* ah how lovely she was! I had unfortunately kept delaying buying the tickets for the event, so I missed out on the VIP first row seats. making it harder to take pictures, but I still managed to get a few good ones. I guess this is the universe telling me to not carry out my evil plan of not tripping the models over (someday dear foot, someday... mwahahaha)
The evening couture was perfect to say the least! The dominating theme was gothic beauty and the color of choice was a sweet pistachio green with splashes of red and grey. The dresses were like a thing of fantasy bringing lace, beads, embroidery, and patterns all together in a beautiful sultry dance to produce a masterpiece so visually pleasing, it could take away your breath. During this catwalk, beautiful songs filled our ears with such eerie beauty, with addition to the garments, it almost sucked in the audience into a different world of devastating beauty.
And then, the show stopper! it was such a theatrical feast for the eye, and the model was absolutely loving it.
And to top it all off, we were surprised to find out that the music was actually live! there was a singer backstage with the voice that felt like droplets of golden dew slowly entering your soul through your ears! her name was Ella and she was fantastic.
During the intermission between the two catwalk shows, islamic relief had the chance to speak about their mission in detail. What they have achieved with this project so far has been truly inspiring. They also managed to raise funds and sgn up some sponsors for the programme. Rima Tadmory offered one of her gowns to be auctioned off all proceedings to go to charity. I swear, if that dress was my size... damn all those deelish chocolates!
The bridal catwalk was short and sweet! it featured the actual brides in their bespoke wedding gowns! Seeing these women's faces as they joyfully walked down the runway in their most prized dresses to disney songs, was adorkable to say the least! Rima Tadmory herself walked side by side a model wearing Rima's wedding dress! I have to say, Rima Tadmorys' dress was perfect! (final dress)
After the bridal catwalk, fans had the chance to meet DinaTokio. I'm not really the groupie type (she says while squealing like a teenage girl meeting Justin Bieber), but my dear friend Yousra really wanted to say hi to her :) DinaTokio was lovely with a side of sweet topped by a splash of fierce! She properly said hi to her fans and actually took the time to speak to each and everyone of them! It meant the line ,oved slower than a Loris but it was definitely worth the wait!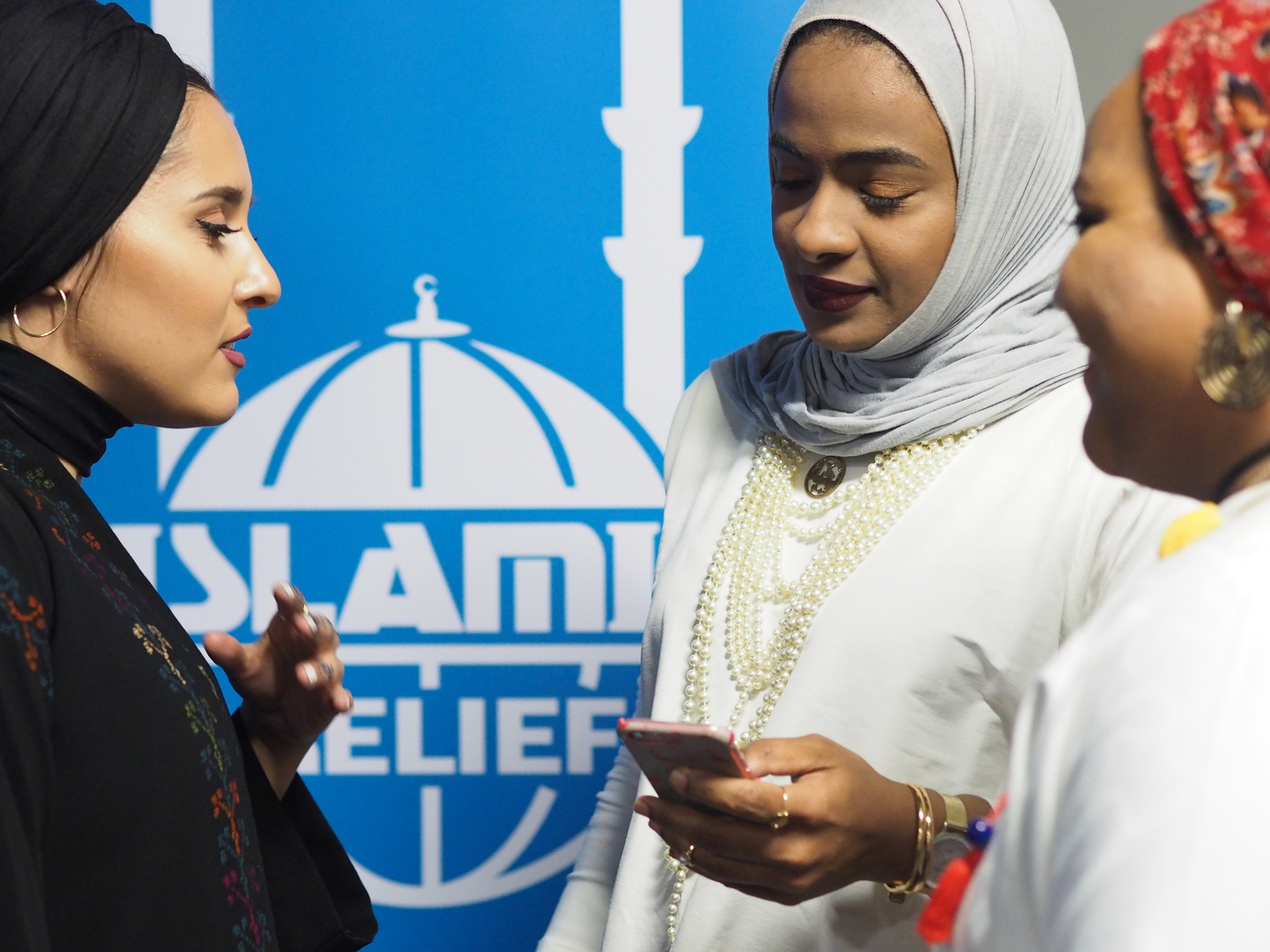 My only issue was with the venue if I had to be a 100% honest! having black curtains and bad lighting is not exactly a photographer/bloggers dream but the overall feel was great! Good show, good company, amazing garments, and lovely celebs! loved it!